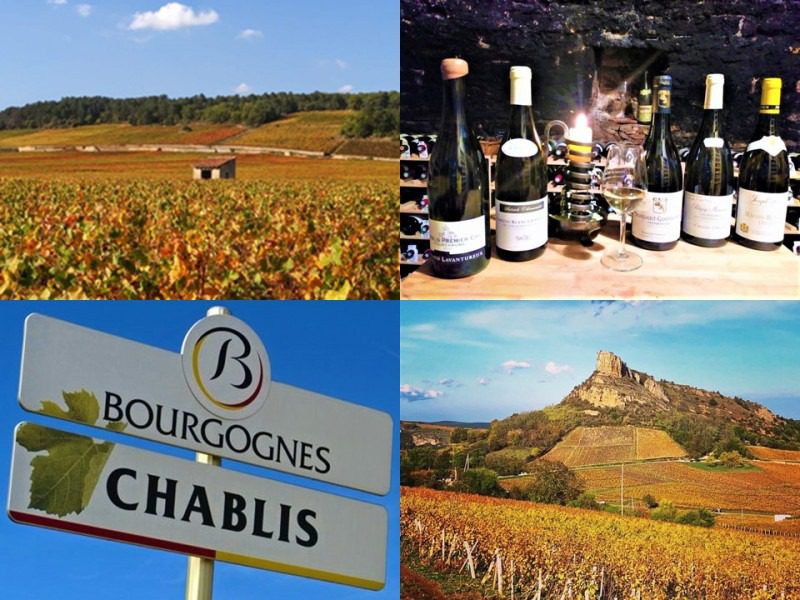 "The Best of Burgundy"
10 Nights – Spring 2023 dates to be announced soon!
$5,690 per guest  (double occupancy, airfare not included) – Limited to six guests
Ask any group of Burgundy lovers to name their favorite wines, and you are bound to hear very different responses.  When it comes to the whites, some prefer the minerality of Chablis, and others the sunny, white-flower freshness of Pouilly-Fuissé.  Still others will argue that the round aromatic wines from the Corton hillside are at the top of the list.  Inquire about red preferences, and many will wax poetic about the the robustness of Gevrey-Chambertin or Pommard, while others extol the virtues of the lighter yet sometimes more complex wines from Santenay or Chambolle-Musigny.   Join us on our "Best of Burgundy" adventure, and you will be able to experience them all!
As we taste our way through Chablis in the north, the Côte de Nuits and Côte de Beaune in the famous Côte d'Or, and the Chalonnaise and Mâconnais regions a bit farther south, we will also trace the history of wine-making in Burgundy.  Our visits to villages, towns, and historic sites will reveal the story of wine-growing in the region that spans more than 2000 years.
Here is a preview of our extraordinary itinerary (with more delights to come)…
Day 1  – Guests depart USA for Paris.
Day 2 – Arrive in France,  spend one night at a 4-star hotel in Central Paris.
Day 3 – Private transport to Chablis in time for lunch.  Settle into our 4-star hotel in Chablis. Afternoon domaine visits.  Dinner together.
Day 4 – Day touring and tasting in the Chablis region.  Lunch together.  Scenic drive and visit to this historic perched village of Vezelay.  Return to Chablis for the night.  Dinner together.
Day 5 – Chablis to Beaune.  Arrive in Beaune in time for  our lunch together, then settle into  your 4-star accommodations located within the historic town for easy access to restaurants, wine bars, etc.  Dinner together this evening.
Day 6 – Touring in the countryside, including brunch at the Michelin-starred "Abbaye de la Bussière."  Dinner on your own this evening.
Day 7 – Day tasting and touring north of Beaune, to include opportunities to taste and discover 1er and grand crus from the Côte de Nuits.  Lunch will be in a little tucked-away village to the west of Savigny-les-Beaune.  Dinner together this evening.
Day 8 – Day touring and tasting in the Côte de Beaune and Côte Chalonnaise. Special lunch in Bouzeron (home of AOC Aligote).  Late afternoon return to Beaune.  Dinner together in Beaune this evening.
Day 9 –  Day in the  Mâconnais region, including Chateau de Fuisse. Special wine-pairing lunch in Solutré-Pouilly, in the shadow of the famous rock of Solutré.  Afternoon tastings (Viré-Clessé, etc.)   Late afternoon return to Beaune.  Dinner on your own this evening.
Day 10 – Day in Dijon.  Stroll the historic "Eiffel"  market hall on market day (and also the market wine bar).   Opportunity to see the tombs of the Ducs de Bourgogne at the Musée des Beaux Arts.  Special lunch at an authentic "Bouchon."  Guests' choice in the afternoon (wine-focused, archeology museum, museum of Burgundian life, etc.). Return to Beaune late afternoon.  Dinner on your own this evening.
Day 11 – Guests choice for options in and around Beaune, perhaps splitting into two groups, one with Ken and the other with Carolyn. (i.e., visit to additional nearby domaines to taste/buy wine, visit to the Burgundy Wine Museum, Musée des Beaux Arts.)  Lunch on your own.  Celebration dinner this evening in Pommard, at the home of Carolyn and Ken.
Day 12 – Following breakfast, guests depart for Paris on private transport.  (While not included in the trip package, YK2B will assist you to make hotel arrangements for a final nigh in Paris, or additional nights  for those wishing to extend their stays.)
Day 13 – Guests return to the USA or continue on their own in Paris.
This excursion Includes:
10 nights in 4-star accommodations in Paris, Chablis, and Beaune.
Private driver to and from Burgundy and all transportation within Burgundy.
Many wonderful meals together, from Michelin-starred to small, family-owned gems, and even one hosted by the Thompsons at their Pommard home (Seven lunches, one Sunday brunch, six dinners, continental breakfast each morning).
Days filled with exploring beautiful historic sites and tasting exquisite wines of Burgundy's five wine-growing regions.
Carolyn and Ken as your personal guides and cultural interpreters throughout your experience.
Airfare and your final night in Paris are not included, but we are happy to advise guests on making those arrangements.
This is truly a "bucket list" experience for those who love the great wines of Burgundy!
Contact us today to learn more about this very special excursion!