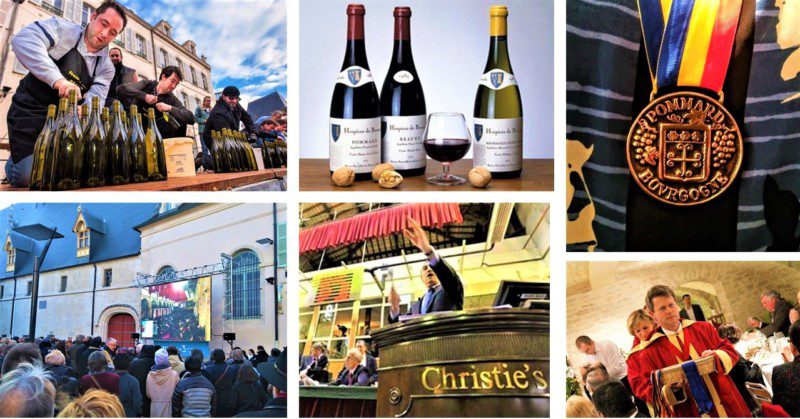 The Best of Burgundy and Hospices de Beaune Wine Auction – An Unparalleled Adventure for Wine Lovers
Join us for a once-in-a-lifetime experience as we explore  The Côte-d'Or during the 159th edition of the famous charity wine auction in Beaune.  The most festive time of the Burgundian year!
Friday, November 8 to Tuesday, November 19 (11 nights)  –  $5,500 per guest (double occupancy) – Limited to three couples
This trip is full!  We hope you will contact us about opportunities to travel with us in 2020. 
Presenting a wine lover's dream come true:  A rare opportunity to experience Burgundy's wine, food, history, and culture during "Les Trois Glorieuses," the most famous wine auction in the world that takes place each year in Beaune over the 3rd weekend in November.  With Carolyn and Ken as your personal guides, you will explore the Cote d'Or during the most festive weekend of the Burgundy year!
While airfare and transportation to and from Beaune is not included, all of the following IS included:
To prepare you for your adventure:
Guidance of Your Key to Burgundy to assist you with planning additional aspects of your trip (i.e. help with selecting flights, recommendations and reservations for any extensions you might wish to make to your trip)
In France:
Relax into your adventure, as you spend your arrival night (November 8) at the 4-star Hotel Opera Cadet – a boutique hotel on one of the most authentic market streets in Paris, with a full buffet breakfast included – perfect for recovering from jet lag and the fatigue of your long flight.
Following a leisurely breakfast to help you ease into the day, travel down to Burgundy on your own on Saturday, November 9, to arrive in Beaune in the heart of Burgundy's Cote d'Or, where Carolyn and Ken will be on hand to greet you.
You will settle in for your nine-night stay in your luxury studio apartment at La Maison des Courtines, a boutique hotel residence located in the historic center of Beaune, that combines the charm of an 18th-century mansion with contemporary comfort and style – located near all of the best that this famous wine town has to offer:  Restaurants, museums, boutiques, wine shops, and also just steps away from where the wine auction celebrations will take place.
And, the fridge in your studio will already be stocked with food items you have pre-selected.
Five days of touring, including domaine visits and cultural sites throughout the Côte de Beaune and Côte de Nuits with  Carolyn and Ken as your guides.
And, if you decide to buy wine to ship home, Carolyn and Ken will take care of all the arrangements for you!
7 lunches at some of our favorite establishments in Beaune, Dijon, and in some of Burgundy's most famous villages – one a fabulous Michelin-starred gem, and all paired with wines from the region.
5 dinners,  with wine (bien sûr!), including a celebration dinner at the Pommard home of Carolyn and Ken, featuring wines from their private cellar.
Just enough free time to allow you to make your own discoveries in and around Beaune, including passes to enjoy Beaune's most famous cultural and historic sites, including the Hospices de Beaune, Burgundy Wine Museum, and Musée des Beaux-Arts.
Saturday, November 16, the weekend festivities begin! Beaune will be transformed into a "party town" for the weekend. Watch the start of the semi-marathon (or perhaps even choose to participate!), taste Burgundy's delicacies – everything from escargot to foie gras – at Le Village Bourgogne, even do some early holiday shopping from artisans displaying their hand-crafted wares on Rue de Lorraine.
The big day arrives on Sunday, November 17, when you will experience the glorious celebration of the 159th Hospice to Beaune wine auction, with events including the induction of the honorary auction chairpersons into La Confrérie de Belnus, followed by the folklore parade. In the afternoon, we will gather at the Place de la Halle to follow the excitement as the wine auction gets under way.
Following breakfast on the morning of November 18, travel on your own to Paris for a final night before traveling home the next day.
And of course, Carolyn and Ken, your personal cultural interpreters, guides, and Burgundy "locals" will be on hand to provide you with an insider's experience, unlike any other!
Contact us today to reserve your space.  We hope you will join us!
Please get in touch with us to receive additional itinerary details.  We hope to share the best of Burgundy with you!