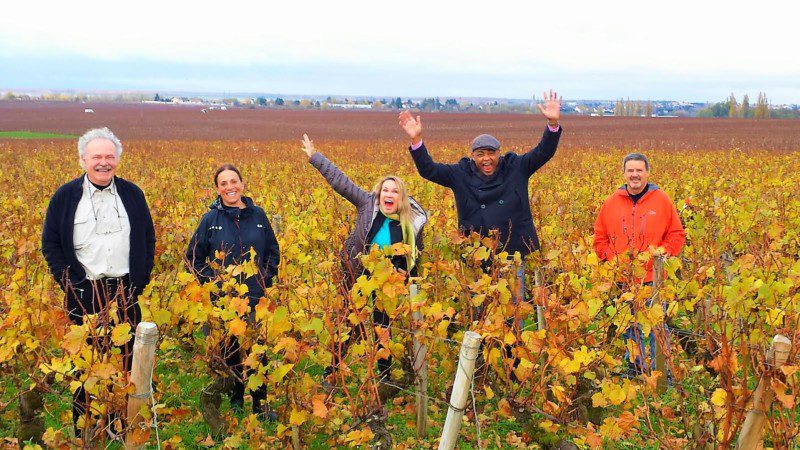 "Live Like a Local" in Pommard
Various weeks throughout the year
Seven nights, beginning at $2,900 for two – Ideal for small groups of friends or families!
Spend the week of your choice – or even longer – experiencing the rhythm of life in one of the most famous wine villages in Burgundy!
Imagine a land with 2,000 years of winegrowing history. Imagine yourself in the heart of that land, in a village in the Cote d'Or – a place that in July 2015 was designated a UNESCO World Heritage Site. Picture yourself walking through the vineyards, through the streets of that village, and meeting the people who live there today: The winemakers who breathe life into the region and keep the traditions alive.
Now allow this seven-minute film featuring some of Pommard's prominent vignerons – friends and neighbors – to transport you to that place.
Finally, expand those seven minutes to seven days, during which you will personally come to feel the pulse of everyday life in Pommard…
Arrive at your beautifully-appointed accommodations to find your fridge already stocked with basic items to get your week off to a relaxing start.  Join in the ritual of morning coffee in the local café, perhaps with the mayor of Pommard, himself, seated at the next table. Stroll into the vines on a hillside overlooking the village and feel the sun on your face. Descend into ancient cellars and smell the wine aging in barrels. As the sun is setting, gently ease the cork from a bottle you purchased from a local winemaker, just that morning.
Live like a local and feel the heartbeat of the Cote d'Or – This is Burgundy, at its best!
Especially designed for travelers who value independence and flexibility, this package can be booked at the time of your choosing.  Winter, spring, summer, or fall – simply select your dates, and we will work with you to customize your experience as we make all the arrangements.*
The basic package includes the following:
• Seven nights in charming, spacious, and very comfortable apartment-style accommodations in the village of Pommard.
• "Meet and greet" with an English-speaking cultural navigator who will help you to settle into your "home" for the week and become acquainted with your village.
• Welcome basket and fridge stocked with basic provisions to begin your week. (Guests may select items from an ample list of options.)
• Your "daily bread" from the village boulangerie (bakery).
• Guided walking tour of the village that includes historical background, as well introductions to shopkeepers and other local residents.
• Arrangements for visits and tastings with winemakers in the village.
• Guided tasting with a light meal (your choice of lunch or dinner) at the village wine bar.
• Guided tour and tasting at a chateau winery.
• Extensive pre-trip information packet with maps and literature selected to suit your particular interests.
• Your Key to Burgundy's highly-personalized services to assist you in planning transportation and other arrangements on both ends of your trip, as well as additional activities during your week.
Want to make reservations for dinner or lunch, or plan some sightseeing excursions a bit farther afield?  Your village-based concierge will be available to you during the week to assist with your planning, make reservations, and otherwise facilitate arrangements that might require a native French speaker.
Planning to travel with a group of friends, or as family? Talk to us about affordable pricing of this package for groups of varying sizes, as well as for trip add-ons, such as stays in Paris before or after your visit to Burgundy. Your Key to Burgundy can also be Your Key to France!
* Given the small, intimate nature of this special village, some dates may not be possible, based on demand and the limited number of accommodations available.
Please get in touch with us to receive a full itinerary for this unique opportunity.  We are waiting to hear from you!