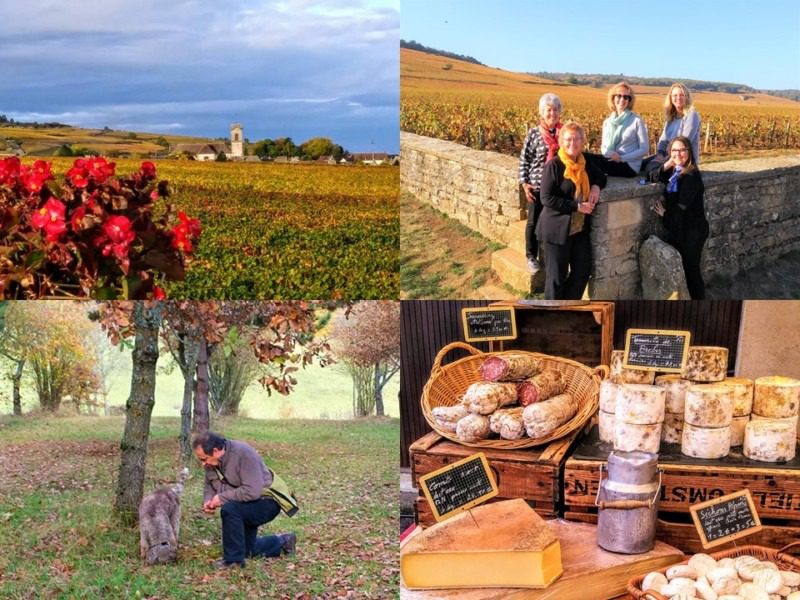 Women In Burgundy 2022 ….
An Adventure For Women, About Women! 
October 12 to 22, 2022 (10 nights)   –  $5,550 per guest ($800 single supplement)  Limited to Six "Wander-ful Women!"
The price includes an arrival night in Paris to help you to ease in to your adventure!
Join us for our annual excursion, just for women – With Carolyn as your personal guide and cultural interpreter, our group of "Wander-ful" adventurers will be introduced to women who have played extraordinary roles over the course of Burgundy's history.
Are you interested, but hesitating because you don't have a "buddy" who wants to sign on with you?  Don't worry!  This excursion is ideal for solo travelers, as this experience is all about self-rejuvenation and making new friends!
Airfare is not included, but all of the following is included:
To set the mood for our adventure, Carolyn will host a pre-trip informational get-together at her home in Albuquerque, where guests will receive a "Bon Voyage" gift bag.  (Any guests who do not live locally will be invited to "Zoom" in to join the fun!)
Relax into your adventure, as you spend your arrival night at the 4-star Hotel Monsieur Cadet– a boutique hotel on one of the most authentic market streets in central Paris, with a full buffet breakfast included – perfect for recovering from jet lag and the fatigue of your long flight.
Our Private YK2B driver will meet you at your hotel, mid-morning on Thursday, October 13, to bring you down to the historic town of Beaune in the heart of the Cote d'Or, Burgundy, where…
… Four nights in the 4-star Hotel de la Poste will provide a relaxing "home base" as we explore all that this town – the center of Burgundy's "wine universe" – has to offer.
Three nights in Dijon at the Hotel du Palais, a fabulous boutique hotel in the heart of the historic city, completely renovated and just reopened in February 2022.
Activities and experiences in Burgundy will include:

A day exploring Pommard, one of the most famous wine villages in the Côte de Beaune, known and loved by Thomas Jefferson.  Carolyn will introduce you to winemakers and other locals in this beautiful village where she has her 2nd home.
Exploring the abundance of the Saturday Beaune Market.
Enjoying the delights of a unique local festival, completely dedicated to the celebration of bread, wine and cheese.
Discovering the mysteries of the Burgundy truffle, as we head into the countryside for a truffle-hunting demonstration, followed by a truffle-themed lunch.
Inspiring visits to some of Burgundy's most famous cultural and historic sites, including the Hospice de Beaune, Notre Dame Basilica, and also world-famous vineyards.
A visit to Burgundy's only remaining family-owned mustard operation, with a special tasting at the end of our tour.
Exploring Dijon, Burgundy's historic capitol, with its fascinating museums and famous market hall designed by Eiffel.
Experiencing "La Cité Internationale de la Gastronomie et du Vin" – The International City of Gastronomy and Wine, just opened in Dijon in May 2022.  We will celebrate the French gastronomic experience as we immerse ourselves in the world of French food and wine.
A day in the northern Burgundy countryside.  We will visit the source of the Seine River and travel to Flavigny-sûr-Ozerain, home of the world-famous 500-year-old "Anis de Flavigny" candy company and village where the movie "Chocolat" was filmed.
Retail therapy, based on your individual desires.

Glorious cuisine (and wine!), including:

Sumptuous daily breakfast at your hotels,
Four lunches and nine dinners – Including unique bistros, historic brasseries, and family-owned restaurants that are favorites of the local residents.
All included lunches and dinners will include glorious wines from the region!

All ground transportation in Burgundy.
High-speed train, with 1st class seats to take our group from Dijon to Paris on Thursday, October 20.
And in Paris to conclude our French experience…

2 additional nights at the Hotel Monsieur Cadet.
A day of exploring in "The City of Light" that we will plan together, based on the interests and desires of our group.
A special "Au Revoir" dinner – A true celebration of our time together in La Belle France!
And of course, with Carolyn as your personal cultural interpreter, guide, and Burgundy "local" to provide you with an insider's experience, unlike any other!
Cost Per Guest:  $5,550   (Single supplement  is $800)
This excursion is limited to six fun-loving, adventurous women.  Our previous Women in Burgundy excursions have filled quickly, so don't delay!  Get in touch with us today for more details and to reserve your space!
To learn more, get in touch with us.  We are waiting to hear from you!