Rules of the Road
(With important updates as of 2023!)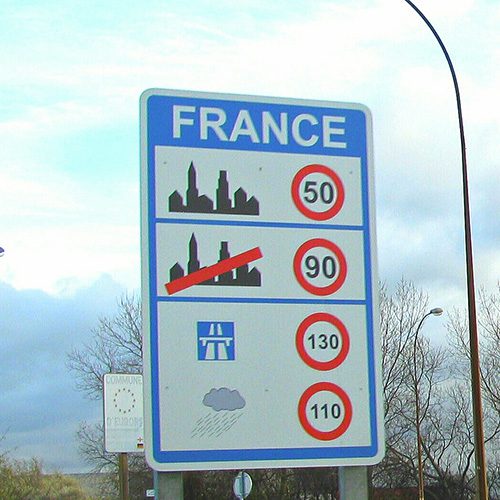 The thought of driving in a foreign country can feel like an intimidating proposition at first, but we have found that traveling by car provides wonderful flexibility to see and do things that one would not otherwise experience.   In France, there is nothing that brings us greater pleasure than having the spur-of-the-moment ability to visit a little-known chateau, travel off the beaten path to find a perfect spot for a picnic, or just explore an interesting country road.
The Good News about Driving in France 
We find that certain aspects of French driving "culture" can actually alleviate some fears about getting behind the wheel.  For example:
The French drive on the right, just as we do in the USA.
French citizens cannot get a driver's license until age 18 and must take drivers' training classes at an "Auto Ecole" – a licensed driving school. Before receiving a license, the driver must pass a comprehensive written and practical exam.  New drivers are identified with the letter "A" on the back of their car for a period of one year, so it is easy to spot the rookies!
Largely because of the country's high standards for driver education, the driving behaviors of the French are fairly predictable.
The French stop signs actually say "Stop."
With all of this in mind, understanding a few rules of the road can help to make your driving experience a pleasurable one…
Your valid US driver's license entitles you to drive in France.  However, you will also need to have with you an "International Driver's License" that translates your US license permissions into multiple languages.  The Automobile Club of America (AAA) offers these licenses for a small fee, good for one year, and you do not have to be a member to take advantage of this service.
Know the speed limits.   Speed limits are standardized throughout France. It is important to know what these are, since drivers can receive speeding tickets for exceeding them, even if no signs are posted.
Toll roads (known as "autoroutes") – 130 kilometers per hour (just over 80 mph).  When it is raining, the limit drops to 110.
Divided highways:
New Law as of 2018! –  Departments in France may now lower their speed limits on main roads outside of towns and villages to 80, while some will retain the previous limit of 90.  Watch carefully for speed limit signs, as many jurisdictions also make good use of radar cameras!
In towns and villages: 50, unless otherwise indicated.
It is important to note that speed limit signs are not necessarily posted at the entrance to towns and small villages.  You are expected to know that as soon as you see the sign with the town or village name, the speed limit immediately drops to 50.  And, speed cameras are often set right at the village point of entry!
Traffic to your right has the right-of way, generally speaking…   One of the big differences between French and American driving rules is "priorité a droite," which basically means that you must yield to traffic coming in from your right.  As with most rules, however, there are some exceptions.  This rule does not apply on the major autoroutes.  Also, if you see a road sign that is a yellow diamond with a white border, this indicates that the priorité a droite does not apply to the road ahead.
Roundabouts are everywhere.   It does seem to be a national characteristic that, once behind the wheel, the French really do not like to stop until they reach their destination.  Perhaps that is why so many traditional intersections have been replaced with roundabouts in recent years!  Some things to remember when approaching and driving in a roundabout:
Traffic already on a roundabout has priority over traffic entering it.
Roundabouts may have many "spokes" from which to exit, usually with excellent signage. However, if you missed a sign and are unsure which exit to take, you can simply drive around again!
Always use your right signal to indicate you are about to exit the roundabout.
New! – French toll roads WILL accept American credit cards, as long as they are chipped cards.   Deciding to take an autoroute can be a great way to get from one place to another quickly.  However, the tolls can be quite steep.  American credit cards with a chip will work in the automatic machines you find at the "Péage" stations.  If you do not have a chipped credit card, it is important to be prepared with plenty of small bills of  € 20 and under, as well as coins.  The good news is that the machines will make change for you.
Drinking and driving is a huge no-no!   The blood alcohol limit is France is .05% – even lower that the .08% that is typical in the US.  And, a new law passed in 2015 sets the limit at .02% for new drivers who have had a driver's license for fewer than three years.  And, hefty fines can be demanded on the spot if you are caught above those limits.   Also, if you do happen to come upon a police DWI checkpoint, EVERY driver is required to blow into a breathalyzer, and not just those who might show signs of inebriation.   We always recommend taking a taxi or having a designated driver for any event that involves consuming alcohol.
Parking comes with its own set of rules.  There are two major things remember to ensure that your parking experiences will not turn into troubled experiences:
When parking in a public garage, make sure you take your ticket with you and then pay at one of the automatic kiosks, just BEFORE returning to your car to exit. After you have paid, the machine will give you your ticket back, and that is what you insert at the actual garage exit to lift the gate for your departure.
When parking in towns along the streets, paid parking is often the case and is indicated by the term "Payant." This word may be painted right on the street at the edge of the spaces, so be sure to look carefully.  There are no parking meters, so you will need to look for a pay kiosk, often along the sidewalk in the middle of the block.  Parking is charged by the hour or some increment thereof.  Most French parking kiosks WILL take American chipped credit cards.  After you pay for your desired time, take your ticket back to your car and place it on the dashboard.
Additional regulations – and some hints and tips – to keep you legal and safe:
ALL occupants of a vehicle must wear seatbelts at all times.
Children under 10 must ride in the back seat.
There is no "right turn on red" in France.
A yellow flashing arrow means that you can drive in the arrow's direction, with caution, even though the other lights may be red.
Headlights are mandatory when it is raining.
On multi-lane roads and highways, slower traffic always stays to the right. On three-lane highways, the left lane is used only for passing.
Motorcycles may split lanes in France, meaning it is not unusual for a cyclist to pass between you and the car directly next to you on a dual lane highway, especially if the traffic has been slowed down because of rush hour traffic or an accident ahead.
Rental cars in France are equipped with a red hazard triangle and a yellow vest. In the event of a breakdown, you are obligated to put on the vest and set up the triangle a reasonable distance behind your car.
When buying gas, be sure you choose the right stuff. "Gazole" is diesel.  "Sans plomb" is unleaded.
And finally, if you do find yourself in an emergency situation, use your mobile phone to call the pan-European all-emergencies number:  112.  You can ask for an English-speaking operator who can help to connect you to the appropriate services.